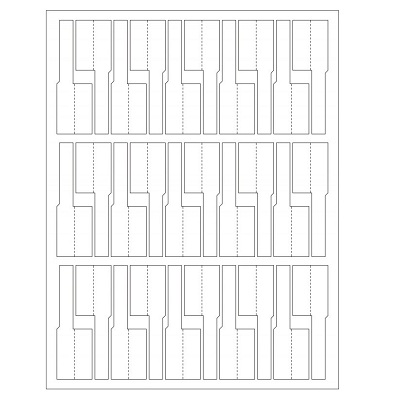 Flag cable is also called "P typed label" because of its shape. They were widely used on the labeling of optical fiber cables.

Flag cable label consists of three printable areas, A side, B side, and Flag Area. Since Flag Area will be hidden between A side and B side when applied in the field, we usually print information only on A side and B side.
---
MR-Label provides two online design tools.
The first one is an interactive online design APP which you can edit the labels' contents like an ordinary image-editing software. MR-Label launched this tool in 2021. We highly recommend this tool if you are a new customer of our cable label products.
The second one is kind of old fashion, we designed this tool back to 2016, you have limited choices and can't see the result until you get the ready to print PDF file. Some of our old customers are accustomed to this tool, so we still make it available here.
We also provide some offline templates. You can download them here: Link
---
Here is a detailed description of our old fashion online design tool.
Five methods to use:
1 – If all the cable labels have the same content, then you can generate the PDF file directly.
2 – If you only have less than 100 cable labels to print, and these labels' contents are different from each other, you can use the online data entry form to generate the PDF file.
3 – If you have hundreds of cable labels to print, and these label content are stored in spread sheet, then you can download our Excel DATA ENTRY FORM, copy your data to the Excel DATA ENTRY FORM, then upload and generate the PDF file.
4 – If you want to put an image on your cable labels.For example, your company's LOGO
5 – If you want to put an barcode on your cable labels. we support EAN,UPC,Code128, Code39 etc.
1. Static Content
If all the labels have the same content.
Go »
2. Online Data Entry Form
If you only have less than 100 cable labels to print, and you don't have OpenOffice or Microsoft Word/Excel installed
And your label's content are different from each other.
Go »

3. Excel Data Entry Form
You have the highest productivity.
Go »
4. Image On Cable Labels
Your company's logo Matters.
Go »

5. Barcode On Cable Labels
Place a barcode.
Go »

---
Label Specifications
| | | | |
| --- | --- | --- | --- |
| Sheet Size: | 215.9 mm x 279.4 mm | Labels Per Sheet: | 30 |
| Number Across | 3 | Number Down | 10 |
| Label Width: | 83.82 mm (3.3 inch) | Label Height: | 25.4 mm (1 inch) |
| Top Margin: | null | Bottom Margin: | null |
| Left Margin: | null | Right Margin: | null |